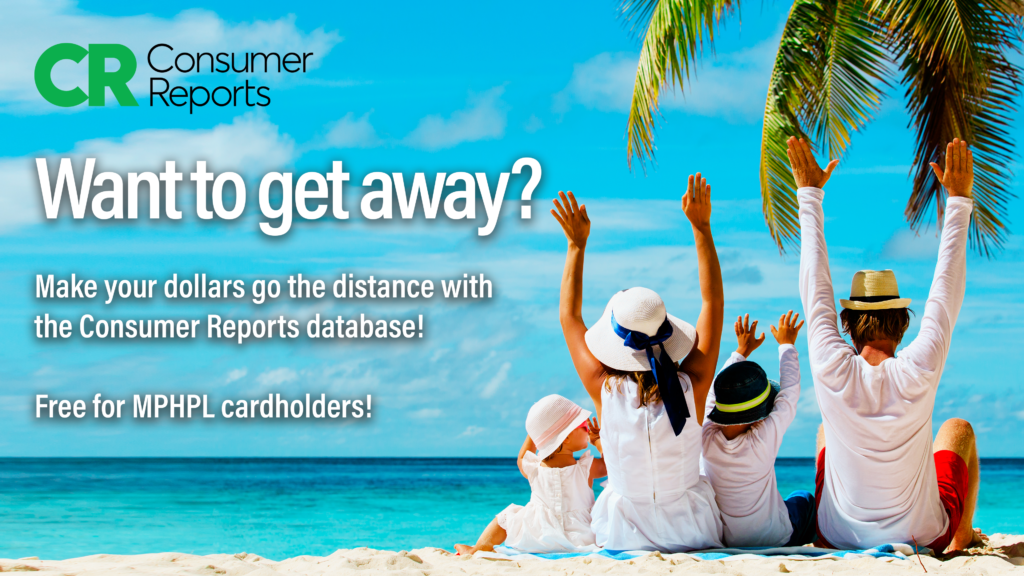 MPHPL Cardholders Have Free Access to Consumer Reports Database
Spring break can be expensive, but it doesn't have to be. If you are a MPHPL cardholder, the Consumer Reports database can get you the best value for your travel dollars.

The long cold winter doesn't only have college students thinking about spring break getaways; many families also choose this time to travel since their kids are out of school. A trip can be an expensive endeavor for anyone if you are not careful. Fortunately for Mishawaka-Penn-Harris Public Library cardholders, Consumer Reports provides free useful resources to help make your next trip easier and save you money at the same time. 
 
Not only does Consumer Reports provide unbiased ratings and reviews for 8500+ products and services, their team of reporters write articles that include trusted advice and in-depth reporting on subjects that matters most to you and your family. 
 
We've shared some relevant Consumer Reports articles below to help you make sure your travel dollars go the distance with the MPHPL Consumer Reports database! 

CR's 2022 Guide to Vacation and Travel 
Traveling Made Easier 
There's a Rental Car Shortage. Here's How to Work Around It. 
9 Tips for Safer RV Travel 
How to Fly Safely During the Pandemic 
COVID-19 Travel Guide: How to Prepare for Your Trip 
 
MPHPL cardholders can get started today by visiting the Consumer Reports database now!