Computers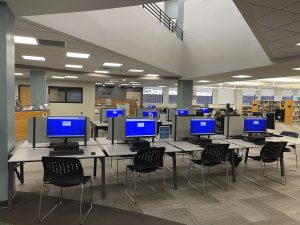 Adult Services
Computers are available at all three MPHPL locations. Each library contains PC desktop computers that can be used for 2 hours per day with a valid library card. 
Child Friendly Lab
The Mishawaka Library offers two rooms convenient for parents with young children to use a computer. Parents can use the space without having to hold their child while typing or worry about them wandering out of sight. Check-in at the Reference Services desk to ask about using one of our child friendly labs.
Youth Services (Children & Teens)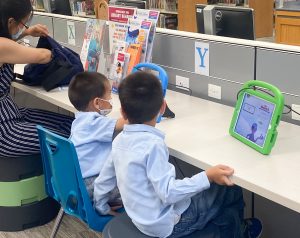 iPads are available for children 11 years of age and younger. Children with an accompanying adult caregiver can request a 15 or 30 minute session once per day. 
A variety of games are included for children to play. 
Youth PC computers have Microsoft Office and Internet accessibility for research and online games. Computers can be used for up to 2 hours per day.  
MPHPL makes it convenient for parents to use the computers while your child is playing on the iPad, doing in-house library activities or browsing for books.
Computers in Youth Services can be used by both children and parents. Each user of the computer needs to have his or her own library card.
Computers for teens are available in the teen area at the Mishawaka Library and Bittersweet Branch. 
Printing
Patrons receive up to $1 per day FREE in computer prints.

Additional Copies: 
Black/White Prints: 10 cents per page

 

Color Prints: 25 cents per page

 
Mobile printing is also available. 
Photocopies
Photocopiers are available at all locations. There is no cost to scan to email. The cost for photocopies is as follows: 
Black/White Copies: 10 cents per page

 

Color Copies: 25 cents per page

 
If you print a double-sided document, please note that each side is considered a page.
Faxes
Patrons may send up to 10 pages FREE per day. $1 per additional page.