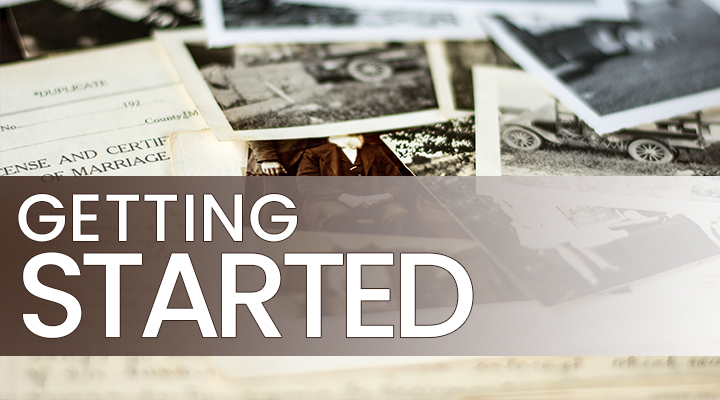 Our Collection
The MPHPL Local & Family History Collection includes a wide variety of print, digital, and archival reference materials to aid patrons in their historical and genealogical research. Our collection focuses on the history and culture of Mishawaka, including Penn and Harris Townships and St. Joseph County, Indiana. We also hold resources on the greater Michiana region, the state of Indiana, and the areas of the country through which Mishawaka's population migrated.
Access to historical resources for the community are available during all open hours. Microfilm readers are available to use and printing services are available. Librarians who specialize in history and its preservation work within the department and they are committed to helping patrons with their local history needs.

First Steps
The first step when starting a local or family history research project is to record everything you know (or at least you think you know) about your topic or family. This includes birth dates, death dates, marriages, important events or locations, places of work / occupations, land ownership, military service, etc. For genealogy, start with yourself and work backward in time. After you've written down as much of this information as you already know, if possible, you may want to talk to relatives and close family friends, or those familiar with your topic to gather more details. At this point, you'll have enough to really jump into the research.
Sometimes you may not know what you are specifically looking for. To help get you started, MPHPL has included some popular research topics below:
| | |
| --- | --- |
| | |
| Genealogy and Family History | |
| Local Industry or Business Research | |
Once you have chosen a topic and determined what you still need to learn, MPHPL's Reference staff are happy to help you utilize our collection and research tools. If you would like more information on what resources we may have related to your research, please feel free to contact us using our Local & Family History Request Form below.
Local and Family History Request Form: Click Here
Our Materials
MPHPL offers a variety of materials and resources to help you on your research journey. Our physical collection, located at our downtown Mishawaka location, is available for in-house use, while our digital collections are available anytime from our website. We offer:
| | |
| --- | --- |
| | |
| | |
| Immigration and Migration Resources | |
| Local Michiana & Indiana State Histories | |
| | |
In addition to our physical and digitized materials, MPHPL also offers a variety of databases to assist researchers, highlighted below.
| | |
| --- | --- |
| Ancestry (must visit the library for access) | |
| | |
| | |
| | |
Microfilm
The Microfilm collection is an extensive collection which is constantly growing. The following links represent some of the items that this collection has to offer in your research quest but does not reflect the full extent of this collection. One item of interest is the microfilming and indexing of donated Abstracts of Titles. Stop by the library to view this unique collection.
Want to browse our entire collection? Click here to view a list in our catalog.
Newspapers on Microfilm
One of the growing areas of the Local and Family History collection is its newspapers on microfilm collection. This collection includes newspapers that were published in St. Joseph County from 1853 to the current year. Besides the newspapers that were published in St. Joseph County, we also have newspapers from all the counties in Indiana.
Additional Resources