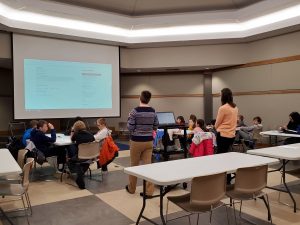 The Youth Services staff of the Mishawaka-Penn-Harris Public Library love when classes visit the library!  All three MPHPL locations offer a variety of programs for classes of all age levels. We can show your students a wide array of resources that are available for them (and their families) to use at the library. We provide students with an introduction to the library and how to use it; how to obtain a library card; how to take care of books and receive a tour of our Youth Services area. For older students, we can provide a library orientation including instruction on databases and digital resources along with assistance on research projects.  
Would you rather the library come to you? Our team is also available to conduct visits to schools in the community serviced by our library.  We are more than happy to visit classrooms for curriculum support, book clubs, book talks, research projects, and more.   
To schedule a class visit, please contact the library at (574) 259-5277 and select the location you wish to visit in the call tree. Visits must be booked at least two weeks in advance and are arranged on a first come, first served basis, subject to staff and room availability. 
Preparing for Your Class Visit
1. What should I do in advance to prepare for my class visit?
As you schedule your visit with the librarian, please indicate if there are particular topics, themes, projects or assignments you would like covered during your visit. If you have students who have library cards, please remind them to bring their cards on the day of your visit.
2. What should I expect during my class visit?
In addition to any special requests, the librarian will give your students an introduction to the Library's services and resources. Information will be sent home for the Adult caregiver about the process of registering for a library card.
3. What can my students borrow from the Mishawaka-Penn-Harris Public Library?
They can borrow books, magazines, DVDs, CDs, audiobooks, Playaways and Playaway Views, Vox books and book/CD packages. They can also use their library cards to access e-books and databases including Libby, Tumblebooks and Hoopla. Please note that some materials have shorter lending periods and higher fines than others.
4. How can my students borrow Libby materials?
Students can borrow materials with a Mishawaka-Penn-Harris Public Library card. To apply, the parent or caregiver must be present along with the child prior to or following the class visit.
5. Where can students use their library cards?
A Mishawaka-Penn-Harris Public Library card can be used at the Mishawaka Library, Bittersweet Branch and Harris Branch as well as online at mphpl.org to access e-books and databases.
6. What else does the Library offer?
The Mishawaka-Penn-Harris Public Library offers a wide variety of programs and services, from early literacy programs to teen gaming after school. MPHPL offers summer and winter reading programs for all ages plus other events throughout the year.