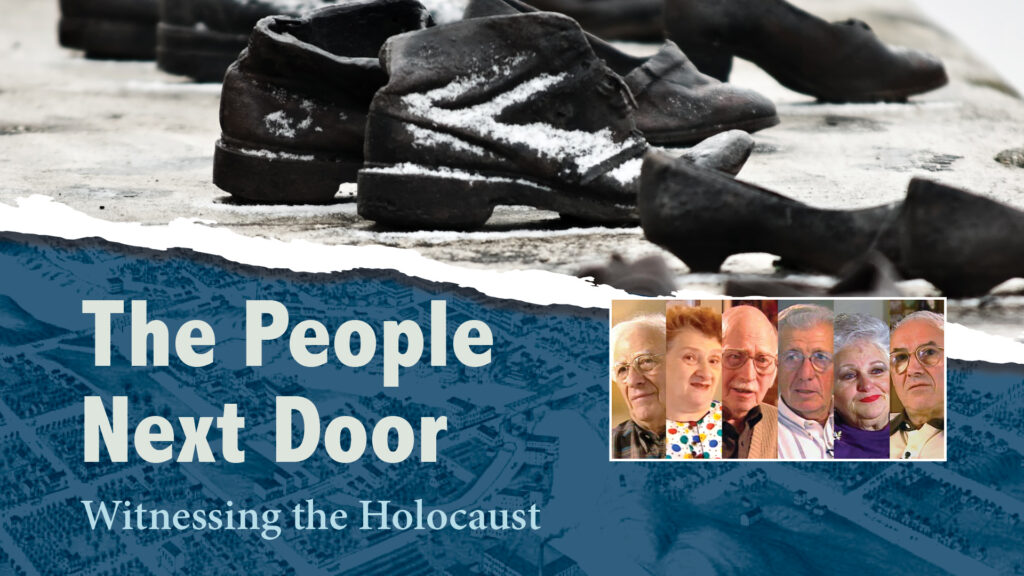 The Mishawaka-Penn-Harris Public Library is honored to host the exhibition for this year's The People Next Door student art and creative writing contest. This annual contest provides Michiana high school students an opportunity to hear the stories of Michiana's own Holocaust survivors, then creatively respond to their experiences in an original work of art or creative writing.
More than seventy Michiana high school students submitted paintings, drawings, poems, essays, or sculptures for this year's contest which awards more than $2,400 in prizes.
The public is invited to meet some of these students and view their work at an Awards Reception and Exhibition Opening on Thursday, April 27 at 5 p.m. in the Youth Activity Room at the downtown Mishawaka Public Library. After opening remarks and a non-denominational candle lighting, contest winners will be announced. Some students will also discuss or read their work.
The following week, an exhibition open to the public will be held during library hours, Monday, May 1 through Monday, May 8. (*MPHPL is closed Sunday, March 5)
The contest shares its name with a locally-produced video documentary. The People Next Door documentary recounts the personal experiences of European Jews who survived Nazi aggressions and eventually relocated right here in Michiana.
The students' art and creative writing reflects a variety of themes shared by these survivors – everything from horror to hope – and makes stark connections between the present and not-so-distant past.
"It really was not very long ago," John Adams High School teacher Elizabeth Drake says about the personal stories described in The People Next Door. Drake has included the documentary in her English class for several years. "Any time you can give a local face to history and help students see that there are still people in our community who experienced these things, that's really powerful," Drake says.
Last year, Saint Joseph High School senior Ian Parks' digital composition entitled Shattered Homeland received the art category's first place prize of $300. The piece, which features the likenesses of both Adolf Hitler and Russian president Vladimir Putin, makes a clear visual connection between the Holocaust and current events.
"They see the connection in today's headlines," says contest co-organizer Michelle Freel. "They see what's going on in Ukraine, and how it's so similar to what happened prior to World War Two," she says. A school counselor herself, Freel hopes students who participate in the contest "will think of themselves as upstanders – when they see people being bullied or taken advantage of, they will speak up about it and get involved," she says.
In addition to the in-person exhibition, a virtual exhibition will concurrently provide a three-dimensional, virtual-reality-style viewing experience that emulates an actual gallery. While the works on display in the virtual gallery will be the same as those being exhibited in person, the organizers hope that the new format will enable the students' creative works – and the memories of the survivors they honor – to be recognized by a more global audience.
The contest has been organized biennially since 2001 by the Kurt and Tessye Simon Fund for Holocaust Remembrance at Temple Beth-El in South Bend. The Simon Fund for Holocaust Remembrance is dedicated to developing educational resources for raising awareness of the Holocaust among both the Jewish and non-Jewish communities. For more information, visit http://simonholocaustfund.org/.