The Mishawaka-Penn-Harris Public Library received an energy efficiency incentive rebate from Northern Indiana Public Service Company LLC (NIPSCO) for energy-efficient projects recently conducted at the library's three locations.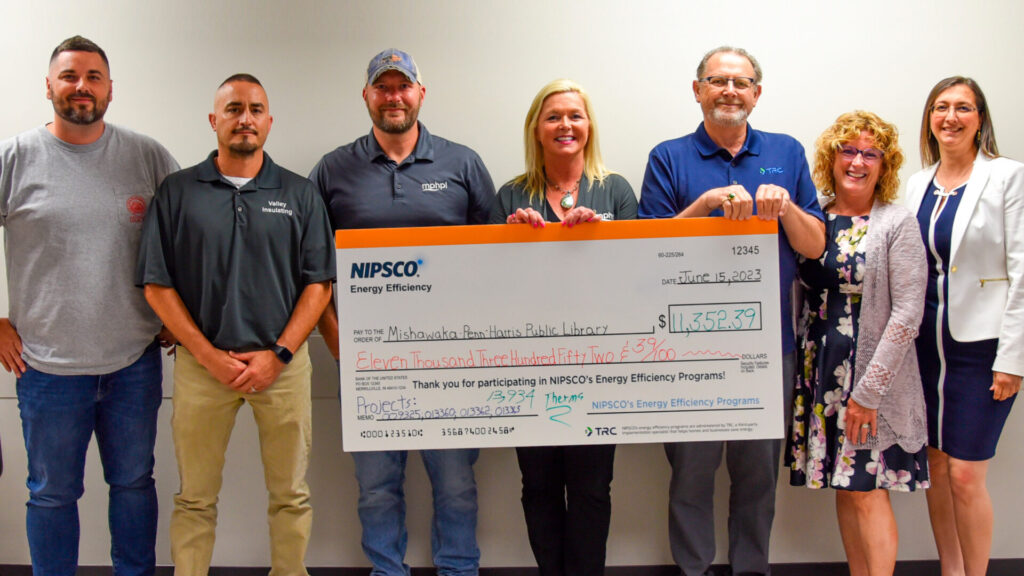 Kirby Dipert, a Field Engineer with TRC, representing NIPSCO's Energy Efficiency Program, presented the MPHPL Board of Trustees with a rebate check for $11,352.39 at the June 15 board meeting.

"The total reflects the 13,934-therms MPHPL will save annually through energy-saving measures implemented," Dipert said.

The rebate was for a handful of energy-efficient projects that MPHPL recently completed that met the NIPSCO rebate qualifications. Projects include but are not limited to installing a new high efficiency boiler at the Mishawaka Library, replacing 100+ feet of aging pipes with energy-efficient piping and installing insulation wrap on more than 1,600 feet of pipes in the three library locations.

"We continually look for ways to save tax dollars … saving on energy bills means more books for our patrons; conserving energy and getting a rebate for doing so is a win-win for everyone," said Director Donna Meeks.

MPHPL Maintenance Manager Rick Rittenhouse said, "Valley Insulating Company, Inc. out of Mishawaka installed 406 feet of pipe insulation at the downtown Mishawaka Library, 804 feet at the Bittersweet Branch and 435 feet at the Harris Branch." Wrapped pipes are the first defense against frozen lines. If a pipe bursts in the cold, Rittenhouse said MPHPL could be out thousands of dollars in repairs and wasted water costs. "Pipe insulation stabilizes temperature in the pipes, saving energy while promoting the overall effectiveness of thermal systems," said Rittenhouse.

The MPHPL Operations Manager Dena Wargo said the energy-efficient projects are already paying off for the library. "We are seeing a positive effect on our monthly NIPSCO bills. MPHPL will continue to pursue projects that conserve energy and make our libraries even more energy-efficient for decades to come."
NIPSCO is proud to have made significant, forward-thinking investments in energy savings with the NIPSCO Energy Efficiency Programs that provide incentive opportunities to residential and business customers looking to save energy. Residential customers can participate in energy efficient rebates, appliance recycling, home energy assessments, or receive discounts and instant rebates by purchasing items on the NIPSCO Online Marketplace. Business customers are rewarded with incentives for completing energy efficient upgrade projects for their businesses.

To learn more about NIPSCO's energy efficiency efforts, visit NIPSCO.com/energy-efficiency.