Heritage Room at Mishawaka Library Opens Monday, Oct. 25
The Heritage Room at the downtown Mishawaka-Penn-Harris Public Library will open on Monday, October 25. The doors were closed to the room in March of 2020, and Monday will be the first time that library-goers will be able to step foot back in the room, which has a new name and a new purpose.

The room is deemed the only official quiet zone in the library. Patrons visiting the Heritage Room are expected to respect the area that will be conducive for reading. Dozens of newspapers and magazines will be housed in the area. MPHPL Wi-Fi will allow visitors to access up to 7,000 worldwide publications via the PressReader app, free to all MPHPL cardholders.

Before March of 2020, the room was known as the Heritage Center and had limited hours. Genealogy records, digital archives, yearbooks, microfilm, and historical newspapers were all kept in the room. The materials now reside on the lower level in Adult Services.

Director Donna Meeks said, "The move increases access to historical resources for the community during all open hours. We have three full-time librarians who specialize in history and its preservation, and they are committed to helping patrons with their local history needs. So not only have our renovations created more areas for the community, but they have increased access to existing services."

The Heritage Room is much more than just a room; it was built around 1914 as a freestanding building to house the Mishawaka Post Office. In 1974 the space became the Mishawaka Police Department. In 1998, the building became part of the Mishawaka Library and became known as the Heritage Center. The exterior has retained the early 1900s architecture, original exterior doors and interior woodwork.

Among the changes patrons will notice include but are not limited to: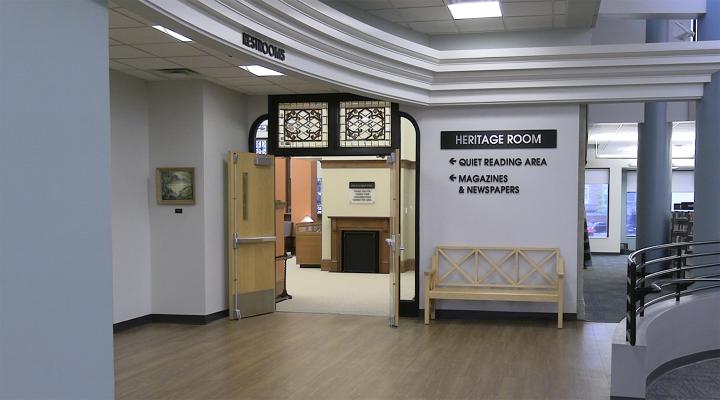 Five hand-crafted enclosed exhibit cases containing artifacts highlighting Mishawaka businesses that have helped shape the Princess City.
Two freestanding cabinets with artifacts paying special tribute to two prominent Mishawaka families.
So much history fills the room, the Mishawaka Library compiled a documentary style video that can be viewed on the MPHPL YouTube channel. Two separate historical documentary style videos are in the works to highlight both Mishawaka prominent families.

Many of the artifacts in the Heritage Room are on loan from Mishawaka historian Pete De Kever. MPHPL would like to thank De Kever for his assistance with historical factfinding and the loan of several items.