The Mishawaka-Penn-Harris Public Library is partnering with Brainfuse, an online platform that is free for all MPHPL library cardholders starting Monday, May 2!

Library card holders can access two separate online categories through the Brainfuse platform, which include HelpNow™ and JobNow™. Both Brainfuse categories offer an online help component where cardholders can meet with an expert seven days a week from 2-11 p.m. for free as many times as they need assistance.

Brainfuse is one of the nation's leading online tutoring providers, serving a diversified client base of hundreds of libraries, school districts, workforce centers, and colleges/universities for over 18 years. With Brainfuse, users receive real-time tutoring from instructors via our proprietary online classroom.

"MPHPL is so happy to be able to offer Brainfuse to our community. Both components will offer support and help for a plethora of synopses. I believe that students will really benefit from the HelpNow database. I wish this service was around when I was a student. I believe that adults will find the JobNow resume and cover letter assistance extremely helpful," said Anne Britton, Youth Services Coordinator.

Both Brainfuse components are available on a computer by visiting MPHPL Brainfuse special weblinks. Brainfuse HelpNow and JobNow can be accessed by tablet and smartphone by using the Brainfuse app.
HelpNow™ provides tutoring for learners of all ages in English and Spanish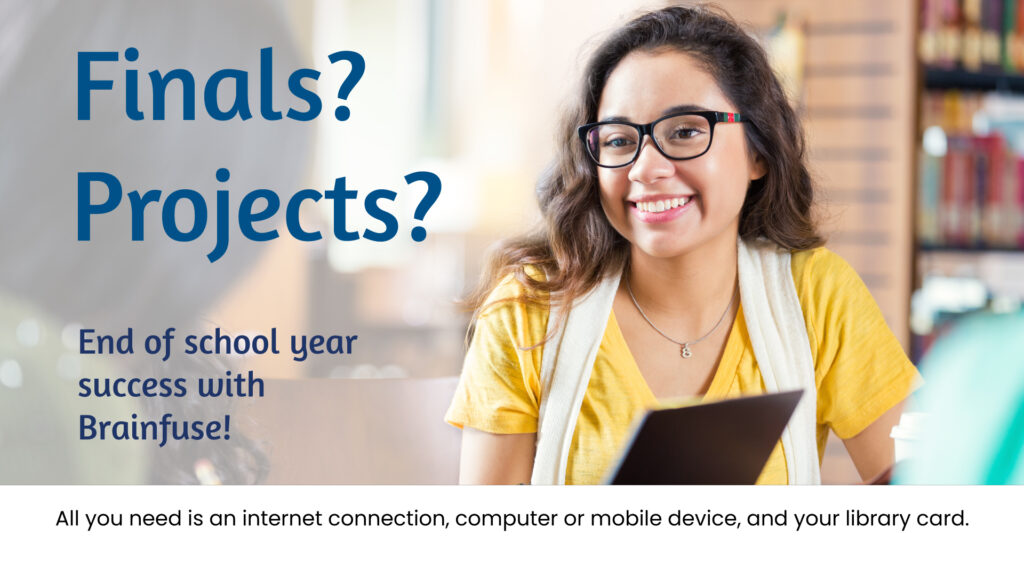 HelpNow is available to all patrons from any computer or mobile device 7 days a week from 2-11 p.m. The platform provides differentiated learning solutions for users of diverse needs and backgrounds. Students communicate with live tutors using an interactive whiteboard to chat, write, draw, copy/paste with text or images and graph homework problems.
Foreign Language Lab
The Foreign Language Center provides expert assistance and support for students who are learning a foreign language. Expert tutoring is currently offered for Spanish, and a host of helpful online resources for learning other languages is forthcoming.
Asynchronous Services
The Writing Lab and the 24/7 Center options give users the freedom to receive assistance at any time of the day without connecting with a live tutor.
Users can submit papers through the Writing Lab for detailed feedback.
The 24/7 Center is for non-writing assignments such as math or science. All reviews and comments from tutors are found and stored in the Message Center which is found on the student homepage.
Writing Lab: HelpNow offers two types of writing assistance.
Live Writing Assistance: Connect with an online tutor for expert writing assistance with our live help feature. Live help is particularly helpful during the initial stages of the writing process when you are working on the organizational and thematic features of your paper.
Intensive Writing Lab: For a more thorough analysis, simply select Writing Lab from the launch menu and submit your writing via our secure messaging feature. Within approximately 24 hours of submitting your paper, you will receive a detailed analysis of your paper in your message center inbox. Brainfuse HelpNow writing experts are trained to focus their analysis on voice, word choice, sentence fluency and organization.
Live Tutoring: HelpNow offers live tutor access for homework help, skills building and test preparation where after taking a quiz, the user can connect directly to a live tutor from the test center without having to return to the main page. Because HelpNow is personalized, both the student and the tutor can access quiz questions to do an intensive test prep which may include loading lessons on the whiteboard. All live sessions are saved and can be replayed as well as shared with friends and teachers by email. Using the CloudPack feature, students can store and upload MS Word, Excel, JPG and other accepted file types directly onto the whiteboard.
Study Tools
Test Center: Visit the HelpNow online assessment library to take practice quizzes in standardized tests (SAT, ACT, GED and more) and practice subject specific tests, like math and science. Get results instantly and, if you choose, share your results with one of our tutors for a targeted skills building session.
Flashbulb: (Mobile friendly flashcards) Enjoy 24/7 access to an extensive library of online flashcard sets in hundreds of subjects. You can also create your own flashcards and multiple choice quizzes for efficient self-study on both computers and mobile devices.
LEAP: helps users build academic skills through targeted lessons, quizzes and live, online tutoring. LEAP creates a learning plan based on a skills assessment that is taken at the beginning of the course.
Collaboration Tools
For students who prefer to work independently and form their own online study group, HelpNow offers a set of collaborative tools – MEET and Brainwave.
MEET allows students to schedule their own online sessions using the Brainfuse MEET whiteboard which is specifically designed for a group setting.
Brainwave is a recordable whiteboard where students can draw, write on the whiteboard and chat then save and email it to others for feedback.
Adult Learning Center
Adult Learning Center is the adult learners' version of HelpNow where patrons can access High School Equivalency prep, US Citizenship test prep, resume assistance, Microsoft Office support and Career Resources. The Writing Lab, Send Question and Skills Building are also included in the Adult Learning Center suite.
About Brainfuse Tutors
Expert tutors, ready to help: All Brainfuse tutors are experienced professionals who hold a bachelor's degree and complete an intensive onboarding process prior to assisting Brainfuse users.
Guiding students without providing answers: Through a variety of personalized techniques, Brainfuse tutors collaborate with students to help them work out problems rather than offer solutions.
Rigorous quality control: Our comprehensive monitoring and review system provides tutors real-time guidance with instructional strategies and assists students with special tutoring requests.