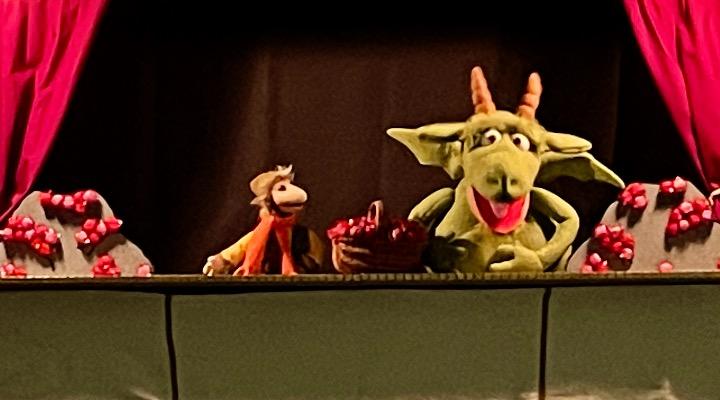 Six performances of Roz Puppets – George and the Dragon was a spectacular hit at our Mishawaka-Penn-Harris Public Library last week. Hundreds of children joined Roz Puppets for a whimsical retelling of a classic tale set in the times of dragons and enchanted creatures. A young lad, George, faced the terrible Dragon of Legend… but how fierce was this dragon? Our young guests discovered not very fierce when they joined us for this fun, furry and unforgettable story.
Two performances were performed at our Harris Branch on August 3, two more were held at the Mishawaka Library on Aug. 4, and the last two shows were conducted at the Bittersweet Branch on Thursday, August 5.
Roz Puppets – George and the Dragon was made possible thanks to the sponsorship of 1st Source Bank.
To watch our short recap video of Roz Puppets – George and the Dragon visit our MPHPL YouTube channel by clicking on the YouTube logo.
Monster Mash Monday
October 25 – 10:30 a.m. & 3:30 p.m. | Mishawaka Library
We are pleased to announce that Roz Puppets will be back at our Mishawaka Library for a special Monster Mash Monday for a two-show lineup on October 25 at 10:30 a.m. and 3:30 p.m. Tickets will be available at the Mishawaka Youth Services desk beginning Monday, October 11. Due to the popularity of this show, the last 50 tickets of each show will be held for #MPHPL cardholders. Please bring your library card when you pick up tickets. Limit 10 tickets per adult.