The Mishawaka-Penn-Harris Public Library purchased the Newspapers.com Library Edition multi-state collection digital archive subscription for all MPHPL library card holders.

"Newspapers.com Library Edition is a great resource for easily researching newspapers for people, records, events and much more! This resource lets users step into the past. It is great for history enthusiasts, family historians, genealogists, sports fans and so many more," said Ashley Cornwell, the MPHPL Adult Services Coordinator.
The database provides online access to more than 20,000 historical newspapers. It offers full-page images with searchable full text for millions of pages of newspapers dating from the early 1700s to the early 2000s. The online resource contains complete newspaper editions of well known, regional and state titles to small local newspapers in the United States and other countries.
Invaluable for researchers, historians, genealogists, educators and students, Newspapers.com Library Edition provides enhanced opportunities for comparative analysis of historical events and people. With ongoing updates and continually adding new content, there's always more to be discovered.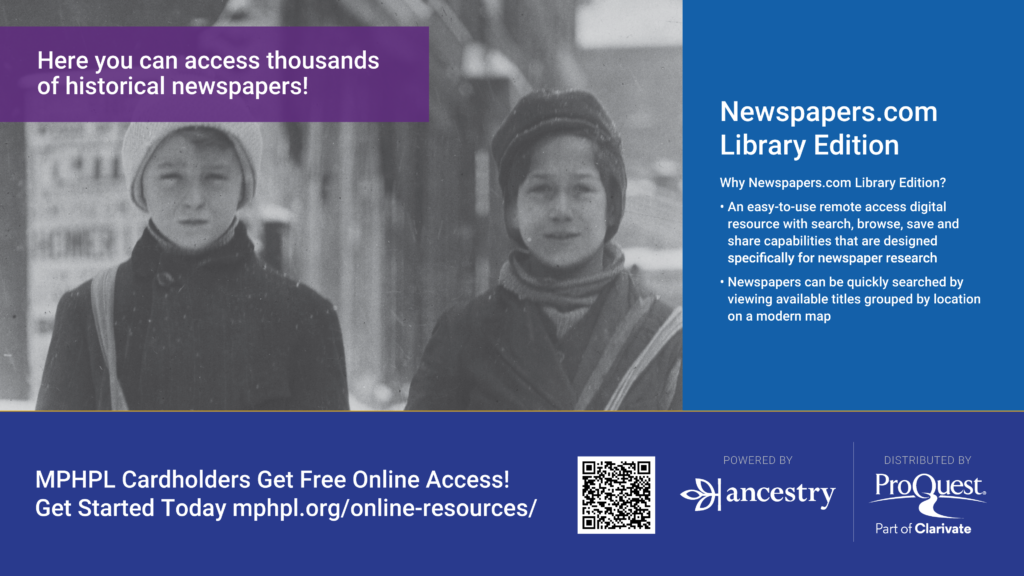 • Users can narrow search results by using titles provided by location, or you can broaden the scope of results using traditional search techniques, like keyword, location and time period or newspaper name.
• Clip, save, and share images and or article text via websites such as Ancestry, Facebook, Pinterest and Twitter.
• Covers a variety of interests, including pop culture, societal attitudes and family history.  
 
Get started on Newspapers.com Library Edition with your MPHPL card today!